Does your network put you to work?
We think you deserve something better.
No matter how distributed your enterprise may be, difficult network solutions make you work hard. But finding a fix is easier said than done. With so many devices & systems to maintain, your small amount of spare time goes to finding workarounds and picking up the slack.
That's why we're all about Zero Point Energy
Zero Point Energy is the lowest possible energy that a system may have. Why is that our name? Because we think you deserve to access and control your critical IT systems with zero effort. And that's why from the beginning, we've developed vendor-neutral solutions that integrate with your environments, no matter how unique or evolving they may be.
As we gained deployment opportunities, we found that success came from our ability to provide a platform for pain-free global network operations at scale. Our platform — which enables flexible remote access, automation, and third-party software integration — seamlessly ties together hybrid, multi-vendor infrastructure to create what we call the Zero Pain Ecosystem.
This ecosystem stretches from data center to edge and cloud, and comes together through our generation 3 out-of-band serial consoles, modular services routers, and SaaS offerings. Integrate partner products and third-party solutions of your choice, from power management systems to next-gen firewalls and custom applications. Bring it all together in harmony using any orchestration tools you're familiar with, for efficient, secure service delivery from your IT infrastructure.
From gaining secure remote access to faraway sites, to having the freedom to customize the entire automation pipeline, our Zero Pain Ecosystem helps 6 of 10 top global tech giants and many large enterprises boost uptime through better infrastructure management. We're on a mission to enable reliable and secure critical IT for enterprises across the globe.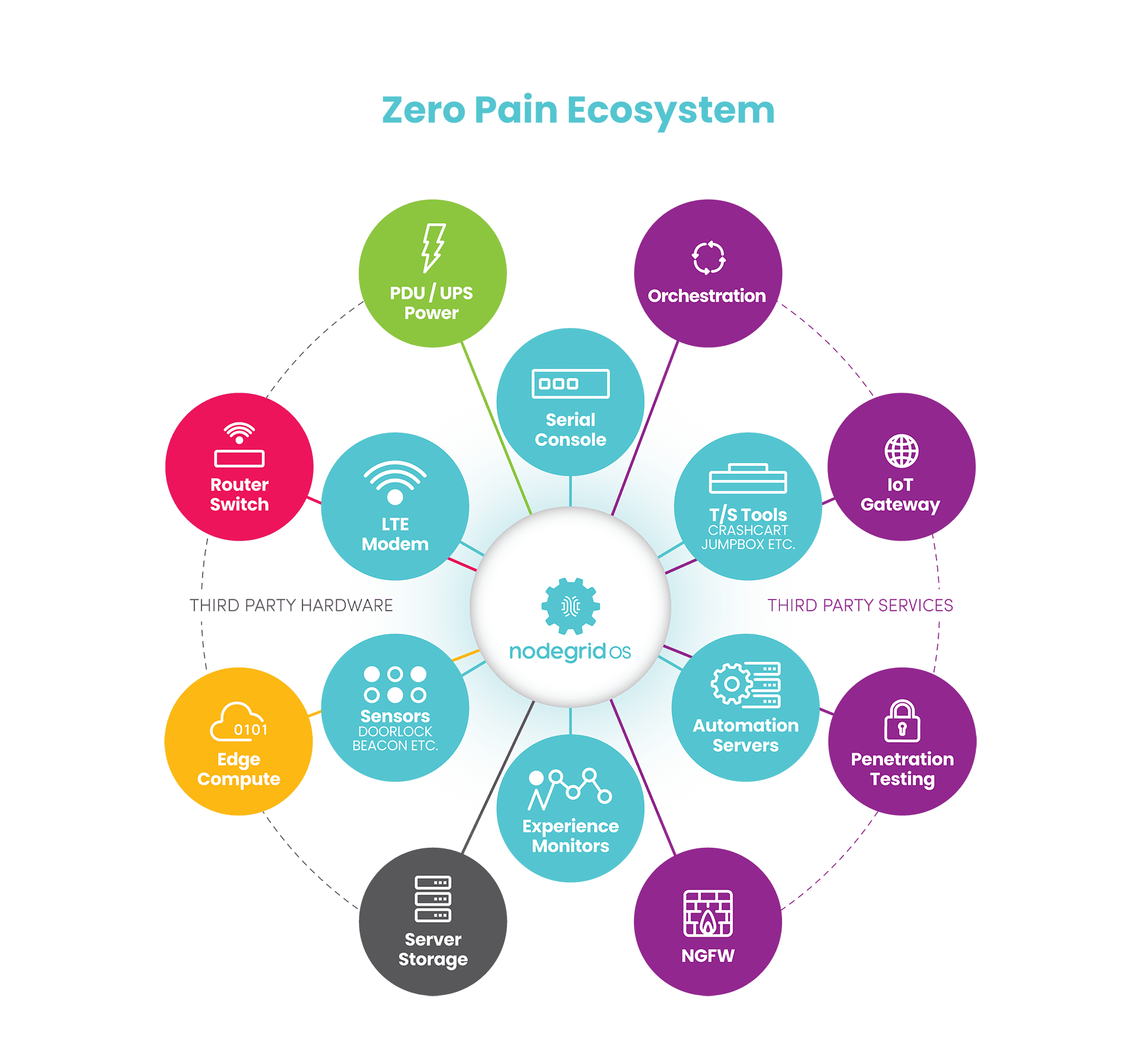 At ZPE Systems, we're on a mission to make network management second nature
Our history of innovation attracts companies from across the globe, and it's our focus on people-friendly solutions that helps solve their biggest networking challenges.
Whether it's providing out-of-band management, Secure Access Service Edge, or SD-Branch capabilities, we are always pioneering better technology to make IT life easier for network professionals.
This spirit is embodied by our Nodegrid family of hardware & software. Now's the time to experience this vendor-neutral, open infrastructure management solution that transforms your network with added reliability & cost savings.
Become one with your network
With ZPE, you can count on better network management thanks to our Nodegrid platform.
Our all-in-one services routers and serial consoles let you adopt solutions that are tailored to you. Whether at your datacenters or distant branch locations, Nodegrid offers more flexible networking that fits you perfectly.
Deploy our Nodegrid platform for seamless, untethered control of your entire infrastructure. No matter what vendor solutions you use, you get a unified management experience that's in tune with you.
ZPE & Nodegrid deliver network control that you don't have to think about. With an intuitive interface, it's never been easier to focus on adding value to your business.
Why ZPE Systems?
Your network is as unique as you are.
Having worked as engineers for the industry's top companies like Avocent, Cyclades, and Emerson, our founders know how critical it is to have custom-fit networking. Coupled with their innovation-driven philosophy, this led them to invent the first Linux-based 'break safe' console servers, develop universal access appliances, and put IPMI inside industry-leading servers.
Everything we do revolves around helping the people behind the network. That's why in 2013, we assembled a team having more than 100 years of combined networking experience.
We quickly developed patented, vendor-neutral hardware & software to bring our vision to life — and bring you convenient control of all your systems.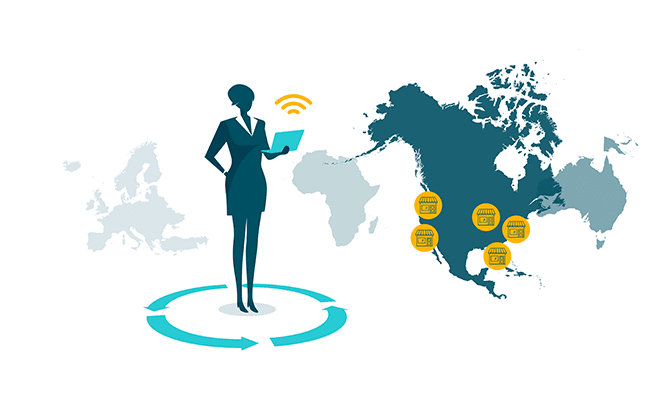 Get the everyday you always wanted
Are you ready to get rid of truck rolls, slow deployments, & network tasks that hold you back?
At ZPE, we know that everyday enterprise networking should help you boost business, and Nodegrid is the solution.
From data logging, user management, & fault monitoring, to scripting, DevOps collaboration, & scaling, Nodegrid lets you control your network from anywhere.
Faulty router? Reboot it from thousands of miles away.
Security breach? Get automatic alerts & respond instantly via browser.
New deployment? Set up in minutes with zero touch provisioning.
Nodegrid offers an automated, virtualized platform that makes every part of your job simple, intuitive, & convenient.
Reach your goals
Whether you're looking to increase availability & customer satisfaction, or have a family weekend free of datacenter disruptions, we want to help you achieve your goals with better networking.
It's as easy as deploying Nodegrid Manager on your current system, plugging into the world's fastest 1U serial console, or connecting to the ultimate all-in-one Nodegrid Services Router.
You can get network management that's customized to your exacting needs, for business & life without compromise.
See how ZPE Systems sets you free with Nodegrid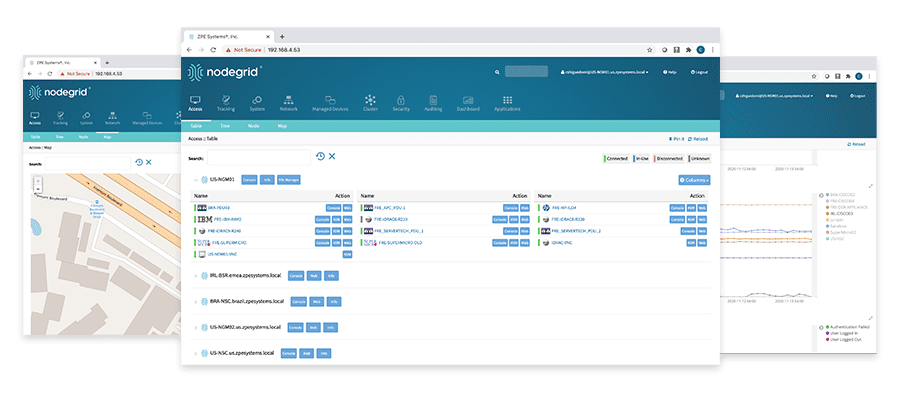 ZPE Systems – Notable Innovations
Rethink the Way Networks are Built and Managed
First to Market – Out-of-Band Solutions Built on a x86-64bit Open Platform
Docker, GuestOS, and Kubernetes Container/Orchestration Built into an Out-of-Band Solution
Auto-Sensing Serial Ports (Alleviate the need for Serial Dongles)
Thermal and Environmental CPU Throttling and Self-shutdown Protection
Out-of-Band Cloud Management Platform
Patented 96-Port Density Serial Device (Patent No. 9,905,980)
Support for Link Layer Discovery Protocol (LLDP)
Multi-vendor Out-of-Band Management (Serial, IPMI, KVM, VM, Power)
Integrated TPM on all Out-of-Band Platforms (Security)
Pre-validation of 3rd-party Applications and Containers via GuestOS
Resilient Scalable SSL Mesh Cluster – Providing Connectivity Between Nodegrid Units – Avoids a Single Point of Failure
Password Protected Boot Components
PXE Boot and ZTP to Perform Upgrades and Recovery Procedures
Configuration Security Checksum
Support for Python Scripting for Automation
Support for Restful API
Full Routing Stack (OSPF, BGP, RIP) on Console Server / Serial Console
Reset Configuration via Hardware Button
Natural Search via Elastic Search
Searchable Custom Fields
Multi-vendor Power Integration
Support for Ansible, Chef, and Puppet Configuration Management Tools
BIOS Configuration via OS
360º Device View with Geography Map, Tree, Node and Table View of Clustered Devices
Multi-function USB ports: Serial, ETH, Copper Network, SFP Network, Environmental Sensors, Bluetooth, Storage, Analog Modem, Cellular Modem & Wi-Fi devices
Dashboard and Analytics via Kibana
Multi-type Authentication Server Configuration List
Encrypted Storage
Clone Target Configuration Based on a Reference Device
Extensible and Scriptable Actionable Data Commands Based on Data Logs, Session State or Syslog/SNMP Messages
Integration of Network Switch, Serial Ports and Cellular Connectivity on a Single Out-of-Band Solution
Single OS for Virtual and Hardware Platforms and Containers
Support 10G Network Connectivity on Out-of-Band Devices
HTML5 Browser-in-a-Container for Secure Viewer – No Deprecated NPAPI/Java Code Viewers/No Applet for Added Security and Compatibility
Failover Integration with Dynamic DNS
Support Radius Vendor-Specific Attribute (VSA)
Network Device Discovery Based on Matching Rules via DHCP Requests/Renew – (Simplified Configuration)